Torviscosa, a town of autarky and cellulose
Torviscosa's history began in the 1930s with autarky, which encouraged SNIA Viscosa, at the time the largest Italian company in the artificial textiles sector, to find a way to produce cellulose using home-grown raw materials. This gave rise to the company town planned community, featuring the architectural styles beloved of the Fascist regime and with a square inspired by the metaphysical art of De Chirico. The new residential development, which absorbed the previous 18th century hamlet called Torre di Zuino, was located opposite the large industrial plant built at the same time and still active today.
As well as architectural, urbanistic and industrial archaeological heritage, Torviscosa is also home to a rich documentary record, made up of company and municipal archives, maps and plans, large models of the SNIA plants and a photography collection of around 10,000 slides produced from the 1930s onwards by photographer Vincenzo Aragozzini for SNIA and its associates all over Italy.
CID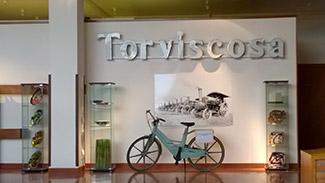 The CID (Documentary Information Centre) is the starting point for discovering the history of Torviscosa and planning a visit to the area. Documents, photographs, films and scale models are organised in thematic areas that provide a general context to the era of the town's foundation and focus on the most important aspects. More info »
Archives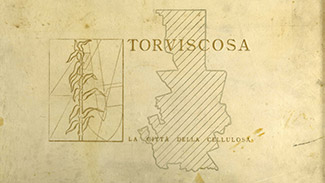 Torviscosa has a wealth of documentary heritage made up of municipal, company and private archives that are a fundamental reference point for thematic areas in the CID exhibition. All the documents that have been catalogued can already be searched and are accessible through this electronic system. More info »
The Local Area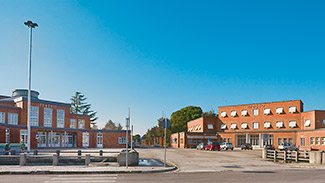 While the exhibition in the CID is an introduction to the historical background of the founding of Torviscosa, a visit to the town and its surrounding area offers a direct experience and in-depth exploration. It is not an open-air museum, but a cultural landscape that contains the features of its origins and later development. More info »
Exhibitions
MOSTRA FOTOGRAFICA "I PAESAGGI DELL'ENERGIA" territorio – architettura – tecnologia
09/10/2020
News
CID CENTRO INFORMAZIONE DOCUMENTAZIONE – CHIUSURA INVERNALE
This website contains the documentary heritage of Torviscosa's history and the industrial undertaking that created it, offering direct access to archives and photos. It also provides in-depth information on the most important themes of its origin and urban development and suggests possible itineraries for discovering the local area.
It has been created by the Municipality of Torviscosa as part of the "Città dell'autarchia e della cellulosa" (A Town of Autarky and Cellulose) project funded by the European Union through the POR FESR 2007-2013 fund.